Wavelock Holdings are supported by TEAM Wavelock.
We confront work and explore the potential of people, technology and material.
This is an interview of the employees who will be creating the future in 2020.
Vol 3 Emergency response to the New Corona Virus

Birth story of "Miracle Fight"

June,2020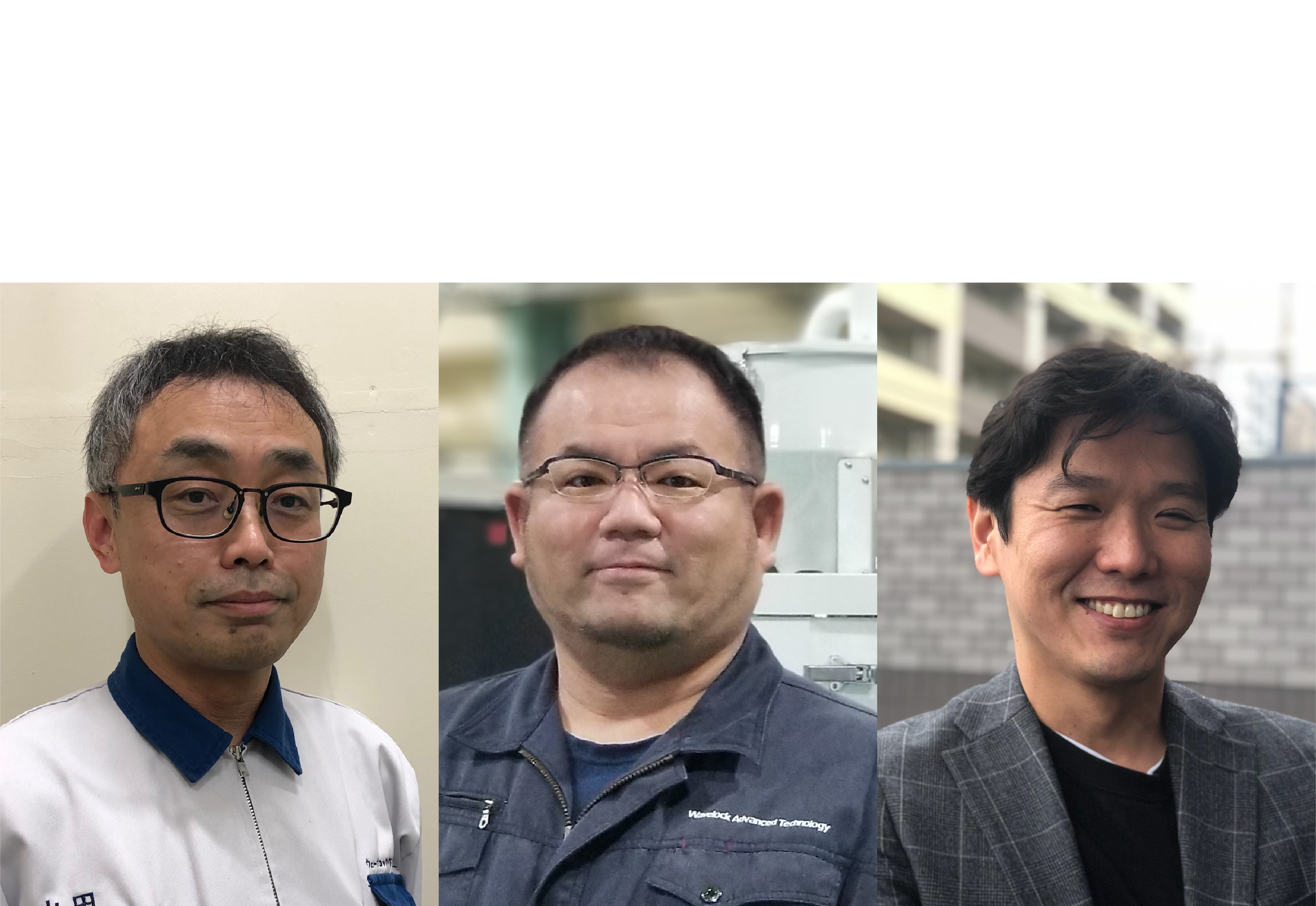 A lot of people are facing difficult times and change in their lives due to the pandemic of novel coronavirus / COVID-19. What can we do at this emergency situation? Team Wavelock tackled this by creating a new product utilizing their technology.
On April 23rd 2020, Wavelock Advanced Technology Co.Ltd. launched a face shield; "Super Tech Mirror Miracle Fight" using high transparent acrylic-polycarbonate composite material to prevent aerosol particles. Furthermore, on April 27th they launched a mask filter "Miracle Mask Inner W" and on May 12th, "Miracle Fight Japanese Takumi/ high performance mask".
This time we conducted an online interview with three people involved in the manufacture of the face shield "Super Tech Mirror Miracle Fight".
We met with M.I from Nagoya factory who is in charge of overall production. T.M from D-tech who is in charge of sales. And K.Y from Production department 1, Koga factory in charge of logistics management. We interviewed about the days up to the launch, commitment to the product and customer reaction.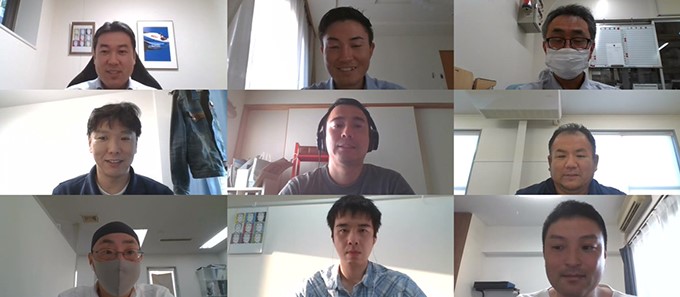 − Tell us about the background of manufacturing face shield "Super Tech Mirror Miracle Fight".
T.M It was right before the state of emergency was announced. I was working on setting up a satellite office with Mr. Shimada from our company when we heard that there is a short supply of face shield in the medical field. Since we are a company making clear plastic sheets, we discussed if you can use that material to make face shield.
It materialized on the night of April 4th right after the start of the new quarter. We talked about making a face shield during our popular online drinking party with a few employees. How it started was that Mr. M.I from the Nagoya factory was participating at that time and we brought the project to him.
M.I  In our company, we have a factory in Ichinose City in Iwate prefecture where they make plastic sheets. In Nagoya factory where I work just happened to stock a trial sheet for them.
At that time, there were no masks in the market and we were talking "We should make it ourselves. Can we make one by utilizing this sheet?" This was the topic during our online drinking party and we decided to make a prototype immediately.
− Everyone felt the need and the plan for producing the face shield was born.
M.I We had the talk on evening of Saturday, April 4. By Monday, April 6th we had our first prototype created.
− Was it you, Mr. M.I who designed the face shield?
T.M Yes, it was the idea from Mr. M.I and others from the Nagoya Factory.
− How many prototypes did you make?
M.I I have shown to everyone 4 times. We made over 30 prototypes during the process. We examined the angles and materials and gradually changed.
− Are you making both shield and the band?
T.M Some parts are outsourced. Originally, Nagoya factory has been making automobile parts, door handles and emblems so we had the ideas, knowledge and resources to process them. Ichinoseki factory in Iwate prefecture had the technology for making transparent plastic sheets. We searched a supplier to process the part for the headband. By combining all these, we made the face shield in a short period of time.
− Did you find it difficult to conduct online meetings and work remotely under the declaration of emergency state?
M.I To be honest, yes. Because no one actually held the prototype in their hands and trying to explain the size, feel, and how it moves just by showing it on the screen online. I was worried until the end. But I am finally feeling relieved now that the products are in the customers hands and receiving positive response.
− Everyone had trust in M.I and his team to let the production in total.
T.M Of course we trusted him. I had no doubt about the product as I have already been getting advice on a regular basis.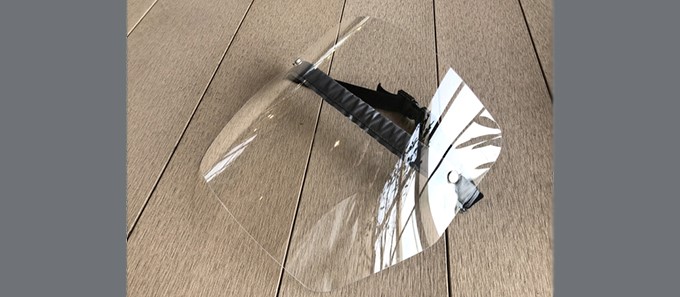 − Please tell us the feature and the reason you selected the material "Acrylic polycarbonate composite" which is used for the shield.
T.M Our company is the maker of this transparent plastic sheet called Acrylic polycarbonate composite. Acrylic is resistant to scratches and polycarbonate is resistant to impact. This is a very special composite material by combining these 2 types of materials in layers into 1 sheet.
Due to its strength and high transparency, it is used as a substitute for glass for smartphone screens and car navigation screens. There is a high demand for quality from the customers for the materials used for such applications. The reason we chose this for the shield is that it is made in-house and that it is made of good material and of high quality.
− What are the areas that you took care of in terms of shape and functionality?
M.I  With Super Tech Mirror Miracle Fight, you can move the shield up and down while wearing it. And you can stop at the angle where you want it. These are the points that we took special care.
Many existing face shields have a fixed shield and the angle cannot be changed. With that shape, the user needs to take it off if they want to touch their face. I didn't want people to do that to prevent virus transmission.
There is also individual difference in the size of the face, and some people wear glasses, so this allows people to lock at their comfortable angle.

− So, you can stop at the comfortable angle by the snap button that secures the band and the shield?
M.I Yes, it took some effort to figure out the balance and the strength so that the shield does not drop by its own weight. Actually, it was completed 2 days before the start of mass production. I have never been so happy at that time.
T.M There are many demands for face shield other than for medical staff. In fact, some customers want to use it when serving customers. Since customer service requires to talk, you also get thirsty. You can drink while wearing the shield and simply changing the angle. I think it is easy to use.
M.I Furthermore, you can change your mask while wearing the face shield. Because the band does not touch your ears.
− You are right. The band that sets the shield is held above your eye brow and back of your head.
M.I 
Mr. T.M just said it is not just for the medical staff. And for me that was the big theme. I want many people to use this.
For example, for those with hearing aid or those wearing glasses, it is another burden to have something else on their ear. So, I wanted to make the ear free. As a result, the design allows you to change your mask.
At Nagoya factory in Aichi Prefecture, trial and error continues aiming for the production. At Ichinose factory in Iwate Prefecture, the manufacture for the sheet continues. At the satellite office in Kawaguchi-shi, Saitama Prefecture, the sales team progress its action. And in Tokyo, EC site is being built for selling to public. At Koga factory in Ibaraki Prefecture, they were preparation for shipping. And all these were happening simultaneously.
− How were you feeling during the process?
T.M We provide what is missing in our society. I had the desire to create products using our materials and technology and provide things for the people in need quickly. In fact, the theme for this quarter that our president said at a company-wide meeting on April 4th is "Challenge" and "Do things double the speed". We were able to implement that from the beginning of April. We have been doing our sales and marketing towards companies and we have knowledge for that. But sales to general public was a new challenge for us. Of course, it was also a challenge to proceed the project remotely through online meetings.
Mr K. Y's team who is in charge of shipment in Koga factory had to introduce a new system too, since they have never dealt with shipment to individual consumers.
In each area, it must have been a lot of stress. But we managed to securely implement it. It was a lot of work.
− In each section, they were all challenging new things.
K.Y At Koga factory in Ibaraki prefecture where I work, we are in charge of shipping products while we collaborate with the EC site management team in Tokyo. It was a great experience for us at Koga factory as it was our first time to ship products to general public.
I was worried since everything was on tight schedule, but we are able to ship without major mistakes or troubles. And as a maker it is a great pleasure to hear the voice from the customers directly
− Since the launch on April 23rd, what response did you get from the customers?
T.M 
Actually, a customer who works at a cellphone store used the face shield and said that it was very good. They felt the sense of security and felt "protected" using our product. In addition, we heard from the local governments that it is easy to use.
I feel that it is helping someone and encourages us when we hear the customer's voice directly. We share the response with the whole team.
We also learned some things. We ship the product with a protective film attached to the shield but some customers didn't know that they are supposed to remove it, so we considered the instructions.
− Is the protective film to prevent from scratches?
M.I Yes, our thoughts as a maker is that we don't want it to get any scratches until it gets to the customers' hands since the shield is such a high transparency that it is used to replace glass.
− What are other popular queries?
T.M Especially the medical institutions are concerned if they can re-use the product. From the point of view of hygiene, medical institutions only use face shield once, but there are problems that the medical waste is increasing.
Depending on the frequency of the usage, our face shield can be used multiple times. It can be used cleanly by removing the shield and wipe it with PH neutral detergent, and you can also disinfect with alcohol.
− Do you have any thoughts about your products or services now that you have experienced this project? Is there anything that you want to apply to your future projects?
M.I Our company, Wavelock began with "combining technology". We are creating new values by combining 2 existing materials. This idea continues throughout and once again this time, a new product was born using the materials and technology we have, combined with sewn product from other companies.
I would like to continue this as DNA of Wavelock. I feel strongly that this is how we are.
K.Y This time, I was in charge of shipping department, but we also have other products from Miracle Fight series that are manufactured in our Koga factory. It was a great experience to establish a system for production and shipment in such a short period of time. I think we can continue this in our future work.
T.M Earlier, I mentioned about the challenge about selling to general public but until now, I was not understanding what the end users are thinking or how they feel using the product. I feel that in the future, we should have the user's point of view to create materials for industrial products that we mainly make. We tend to talk more about the function and cost when we think about the corporate customers, but I would like to suggest more considering the end users.
− Lastly, please tell us if you had any response from your family about this work.
M.I I was talking to my family about the face shield production at an early stage and I took my wife's suggestion as a reference. My wife supported me fully and said, "when you get old, I will definitely call all our grandchildren and will tell them that their grandfather made Miracle Fight!"
I was also doubtful about making a product in just 2 weeks, but now I feel that this will be the trajectory of my own creation in the future.
T.M I have a son who is in the 2nd grade in primary school, but normally my child doesn't understand much about my work. I travel overseas a lot and I think he did not understand what his father is doing.
This time, my son learned that I am making face shield and he told happily about it to his teacher. I received a message from the teacher that she is supporting my work as well.
I thought about this a lot. With this product, I was able to tell my son about his father's work in an easy-to understand manner. And he was very proud of it. It was a very happy incident for me.

We would like to note here. In the spring of 2020, when the whole world was confused, everyone experienced an uncertain situation. In the midst of this turmoil, the "Miracle Fight Series" was born and it proved that each one of our work can support the society even if slightly.
Face shield "Super Tech Mirror Miracle Fight TM"
It is a face shield to shut out the aerosol particles effectively by wearing it over the head, protecting the eyes, nose and mouse. The shield can be flipped upwards while wearing it making it suitable for use while performing work. For further information about the product, please visit our official online store.