Wavelock Holdings are supported by TEAM Wavelock.
We confront work and explore the potential of people, technology and material.
This is an interview of the employees who will be creating the future in 2020.
| vol .9 Along with the customers and manufacture departments, Sales job creates products. | July.,2022 |
| --- | --- |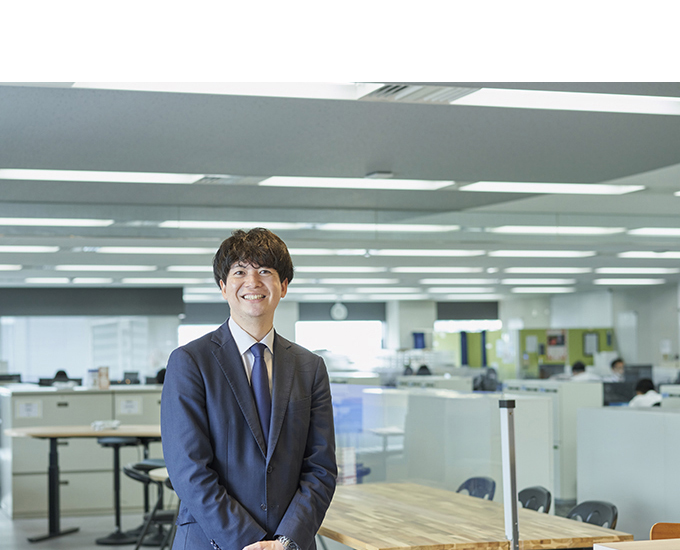 − You joined Innovex in between the recruitment season, but what were you doing at the other company before?
T.K I joined the previous company straight after I graduated and I was doing sales at the specialized trading company where they handle tissue paper, toilet paper and other paper products. Paper products are often called "daily consumer goods" and are the main products on marketing papers at retail stores, so they are very fast-moving products that are delivered every day except Sundays. Although the products and the position of the company is different, the sales job is the same as it is now.
− That sounds like a great job. Please tell us the reason you wanted to change jobs.
T.K The main reason was that I wanted to sell the products we make. As a trading company, we can convey the characteristics of the products and propose to the customers, but even if we receive opinions from the buyers, we cannot reflect that in the products. I wanted to be proactive and reflect the customer's voice in the products. Therefore, I wanted to change to a manufacturer that makes products and found this company.
− What was your frank impression after you joined Innovex?
T.K I got the impression that it is a workplace that respects my opinion. There is a certain amount of freedom, and I am able to translate my thoughts into business ideas and utilize it in sales. I am also in charge of big customers and I think what I was envisioning when I was changing my job has come true.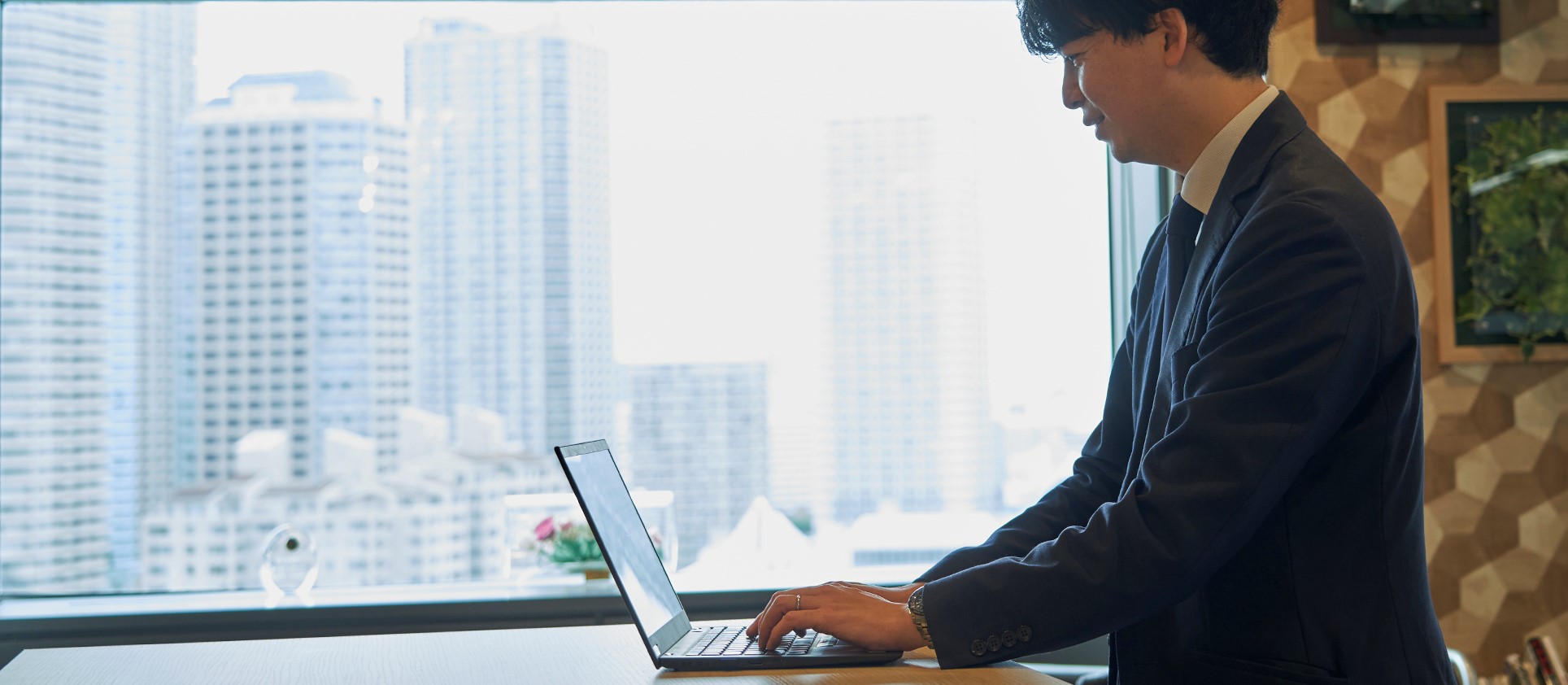 − Please tell us your current job responsibilities.
T.K I am currently in charge of general trading companies and companies with home improvement stores nationwide. I propose and deliver net sheets for farming and replacement insect repellant nets for screen doors which our company manufacture. I may also go to the customers' local branch to explain the features and how to use the products.
Today I brought "weed-proof sheet" which is one of our products. The weed-proof sheet covers the ground and prevents weed from growing, and although it is a niche product, it is in high demand. To use this, first you get rid of all the weeds, then spread the weed-proof sheet on top and pin it to the ground to secure. This product will last for 8 years.
− I have seen the weed-proof sheets in residential areas. You can use it for 8 years?
T.K There are products that will last for 5, 8, 10 and 15 years. If you live in a house with a garden and want to prevent weeds from growing, the first thing to use is a weed-proof sheet. Since the initial installation is cumbersome, the sale of the longer life product is increasing.
− The color and the patterns are very fine.
T.K The product concept is "weed-proof sheet that looks like artificial grass" and woven with multiple colors to give textures. It is cheaper than artificial grass and looks great in the corner of the garden. Since it is woven with warp and weft, the sheet itself is very light, but it has high density and strong. This is one of our recommended products.
− What was the response from the customers you are in charge of?
T.K Many people said it's very interesting. It is new colors that other manufacturers do not have so we are delivering to our customers with major retail stores.
− Do you convey the suggestions from the customers during your business meetings to the manufacturing department?
T.K Yes, I have a lot of communications with the manufacturing teams. We have products that we sell as Innovex brand and also Customers Private Brand. To create private brand products for customers, we determine the specification based on differentiation from other companies, desired size, color, strength, etc. We also discuss new products in anticipation of the demand from the end users, and develop new products in consultation with the manufacturing team.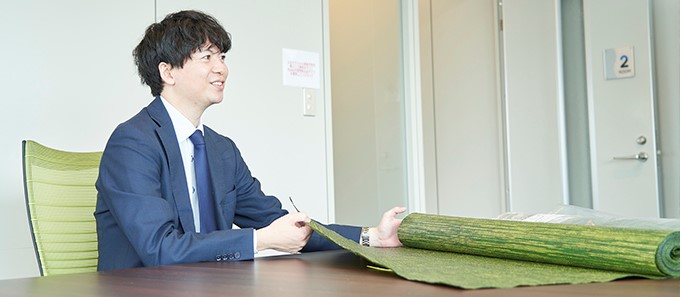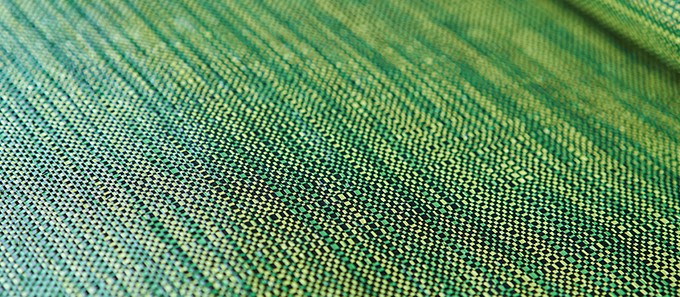 − Being in the sales job, isn't it difficult to think about the customers' issues and propose the benefits?
T.K Yes, it is hard. But the thing I like being in sales is that I am free. I have to think and reflect that in my work. If the result is good, then I take it, if it is not good, then I correct it. I think the real enjoyment of the sales job is to accumulate my own know-how and contribute to the profit of the customers while increasing my company's profit and market share.
− Did you have any frustrating times before you came to that conclusion?
T.K Of Curse there was. In my previous job, I used to take words to words from the customers during negotiations. But I learned from my seniors that it is OK to be optimistic at points. And through the experience I gained, I now can judge the situation and the true intention of the customer's words.
− Tell us your future goals.
T.K I would like to be a person who people can trust and this has been my goal for a long time. I would like to accumulate knowledge to support the lack of confidence I have. And to be able to expand my network of contact both inside and outside the company by showing the knowledge that I have accumulated.
− Is it that "accumulation" that you just talked about, what you are trying to do in your work?
T.K The most important thing is to be polite and to great. I think it is also necessary to have a meaning to the politeness, such as creating a basis for proposals. I keep these two things in mind in order to earn the trust from the customers.
- Finally, do you feel that our products are being used and useful in the world?
T.K Yes, I totally think so. It is a product that is related to our daily life. Agricultural and horticultural supplies are useful for harvesting vegetables, and we live by eating those vegetables that the farmers have made. I strongly feel it is useful in my life.