Wavelock Holdings are supported by TEAM Wavelock.
We confront work and explore the potential of people, technology and material.
This is an interview of the employees who will be creating the future in 2020.
| Vol6 People keep changing and therefore sales department can be interesting with some ingenuity. | Sep.,2021 |
| --- | --- |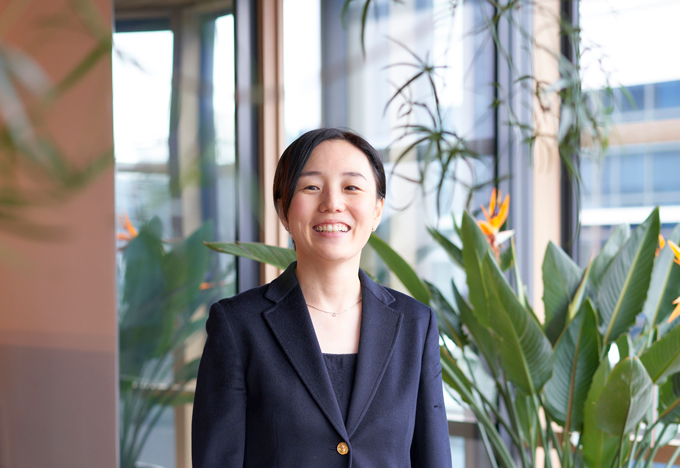 Wavelock Advanced Technology Ltd., sells tear tapes for soft packaging used in food and pharmaceutical products and other tapes used for cardboard box and paper bags. Tear tape is used in packaging for chocolates and other snack products where you pull the tab to peel off vinyl packaging. We have been partnered with the top two major manufacturers that occupy the world's top market for tear tape products and have delivered to various companies in Japan. Ms T.M who is one of the staffs for C-tech TG is in charge of sales for this product.
− Please tell us the process of getting tear tapes into the hands of general consumers.
T.M Tear tape is shipped from the supplier after they print and apply adhesive to the film. It is then placed on the slit bobbin that matches the size of the product. The tape is then processed at our clients' factory into packages for snacks and sold as products.
− Questions about the suppliers. Where are they located?
T.M In terms of tear tapes, we handle products offered by major leading companies with the global top share. There are factories in Europe, United States, India, Indonesia and Brazil and we import the products to Japan that were manufactured in Europe and India. At this time of uncertainty, we don't know when and where the production will stop. In terms of risk management, we believe it is best to always secure a supply rout.
− What are the characteristics of the tear tape?
T.M The technology of thinly slitting the adhesive processed thin film and then winding it around a bobbin looks rather simple but actually needs skills. In this industry, there are adhesive type and heat seal type which needs to be heated.
− The thin and narrow tear tapes are used for snacks, right? What other products are using this tape?
T.M For example, when 10 to 20 pieces of snacks are put together for delivery to a retail store, they are wrapped with outer wrap film and tear tape. Similarly, it is used by pharmaceutical companies for packaging individual products and packaging bundles for shipping.
− So not only is it used for packaging products but it is also used widely in distribution process.
T.M Yes. Tear tape is something that people do not realize much but encounter in daily life.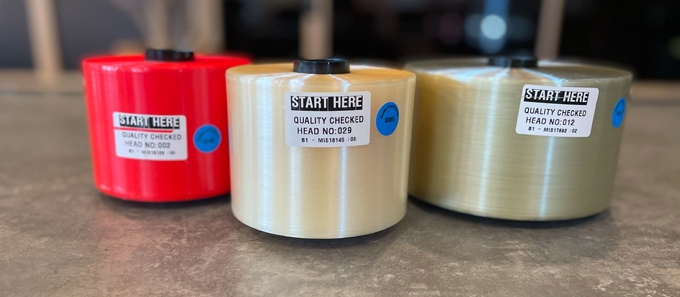 − What are some of the strengths of your company in doing business?
T.M I think speed is the most important thing. For example, when there is a trouble with the customer, we are able to respond fast. We also have certain power to make decisions on the ground. We have good constant communication with the manufacturer. Unlike other companies, we do not divide our responsibilities depending on the area. In addition, when we receive a consultation about a new product from the customer, we may be able to find and propose products from Japan or overseas.
− What are the things you do to gain the trust from your customers?
T.M There are many trade secrets with the customers too. So, in general, I do not bring my pen and paper. When we are taking notes, we cannot listen to the important part of the story. I tend not to do things that I dislike. Customer does have many confidential information, so try not to place my pen and notes on the table. I try to memorize everything. Also, when they need our company's response immediately, I make a suggestion at that moment. Then they will respond with "thank you for acting fast".
I sometimes rely on my customer too. They introduce me to a different manufacturer and even make an appointment to see them. When you rely on them, it is easier to build a trusting relationship.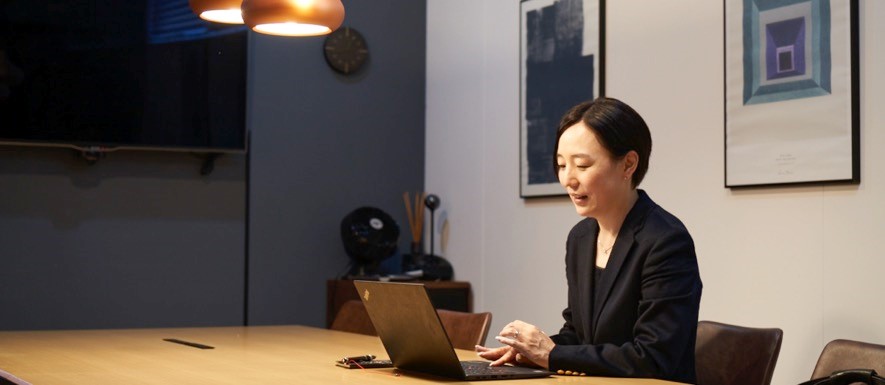 Ms.T.M. has traveled to Europe, India and Singapore several times a year to visit the suppliers. Right after her visit to Europe at the beginning of 2020, the influence of the new Corona Virus spread, so currently she is doing most of her work in Japan. We asked her about her overseas travels in the past.
− What exactly do you do, when you visit the suppliers overseas?
T.M On top of surveying the factory, we will exchange information, discuss quality related matters, anticipate purchases and request improvements. In India, we talk with the people in the field about specific production plan and schedules.
  It is hard to motivate when you do not know what you are making, so we also bring plenty of snacks using our tear tape to go around all the factory workers. It is also my job to consider about the workers so they will be more thoughtful making the products after seeing how beautiful it is. The snacks are popular amongst the children of the workers too.
− In the past, you were also involved in changing the factory to India.
T.M One of the suppliers we work with has their main office and a factory in the United Kingdom. But they were considering changing the factory to India. The possibility of changing was unknown but the evaluation of the quality and the speed of communication was superb. At the beginning, we asked the quality control staff from our Koga factory to accompany us and gave detailed instructions on the frequency of insect repellent monitoring and how to stack pallets so they can learn overall hygiene management
− What are the things you were careful travelling abroad? Please tell us any rules you had.
T.M For my health management, In India, I always ate 30 to 40 percent of my stomach. And in Europe 40 to 50% full unless it was really delicious. In India I was very careful. There is a canteen in the factory but they always brought me seasonal fruit. Also, I always went to the supermarket for market research.
− It is difficult to travel at the moment, but do you miss India?
T.M Yes, I cannot travel yet. But people in the factory always ask me when I am coming back. In India, I was even invited to a wedding and it was amazing. The food is served on a big banana leaf and the curry is piled up. The family of the bride and groom sit on a pedestal and everybody go there to greet. The costumes are also very gorgeous.
- That is a great relationship. What other effect do you feel with the new Corona Virus?
T.M Distribution is caotic and the shipment is delayed. This situation is still continuing. We just had our shipment yesterday too and until then, we had to manage with the stock we had in Japan.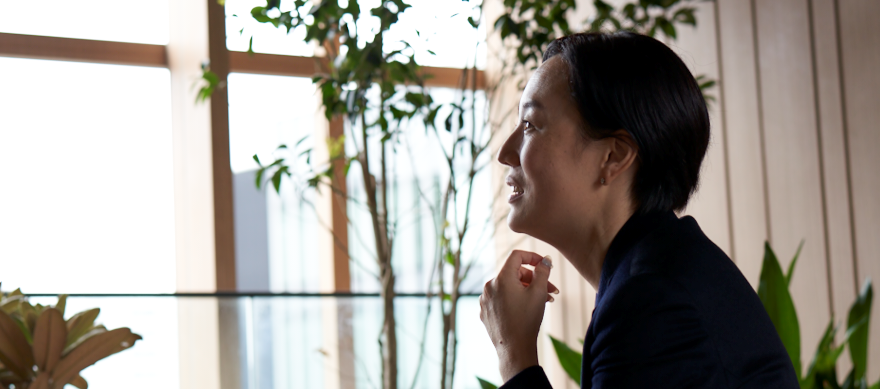 - Tell us what is rewarding in your job.
T.M I am able to see immediately the result of the measures I thought about. It is a pleasure to directly see the response of new methods and ingenuity I thought of.
- Where does that positive energy come from?
T.M There are many different people in the world and it is really interesting to meet them. I love to eat, and one of the good things doing this job is to learn seasonal food from the customers living in rural places where they are also farmers. They give me cucumbers and edible chrysanthemum. I give them feedback and exchange ideas. When you build relationship that way, it is hard to break the business relationship too. It is interesting that when I meet 100 people, I can find 10 people who I get along.
- Did you have any resistance to sales job at the beginning?
T.M Originally, I was shy and it was hard to visit even one company per day or to make appointment. At the beginning, I didn't know what to talk about. I had no knowledge about the products, no experience of handling claims and had no confidence. But since there are not many women in this field, everyone explained to me patiently.
What took me the most time was to understand the manufacturing process. I gained that by visiting the factory with the suppliers over time. It is only the last 6-7 years when I feel comfortable and am willing to go visit the customers. I didn't think it was so much fun until then.
There is a factory where it is really hot and I get sweaty. They told me there is a good bath house nearby. We also talk about our families. Since I speak English, they ask my opinion about their children's future, ask how to study English. They also ask how I am after I return from India. We don't always talk about business. That is human relationship.
We all like to work hard with the partners who think together. Creating this relationship helped during this hard time so when we ask favor, they are also flexible.
- Currently, people say it is a time of change. How do you feel about "change"?
T.M The changes are different for each person, but everyday things are slightly different. So, in contrary, how does it not change? I have always thought that every day is different. You never know when you will die. I want to live happily while I am alive.