Wavelock Holdings are supported by TEAM Wavelock.
We confront work and explore the potential of people, technology and material.
This is an interview of the employees who will be creating the future in 2020.
| Vol7 Hello New World. Nice to meet you (Prat1) | Feb.,2022 |
| --- | --- |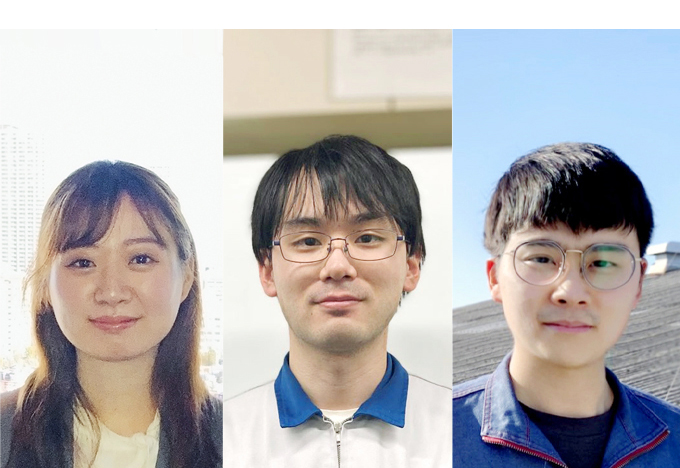 Curious about the rare moon and the news of meteor showers.
Y.T. Technical Department, Wavelock Advanced Technology, Ltd.,
Joined in 2020, From Shizuoka
- Please tell us about your childhood.
Y.T Since I was a small child, I have always been interested in science, earth science and astrophysics. When I was in high school, I belonged to the faculty of Natural Science in Earth Science Group where I was involved in production of planetariums and astronomical observations for school festivals.
- What was your major for undergraduate and graduate in university?
Y.T For my undergraduate and graduate degree, I was major in science and in department of chemistry, I mainly studied organic chemistry. In the laboratory, I focused on developing organic compounds that convert weak light energy into strong light energy. It's a simple analogy, but solar power does not use all the energy from light. There is weak light that does not convert into electricity. We were trying to convert such weak light energy into strong energy using the compounds that we developed.
- Why did you pursue that research?
Y.T I joined the laboratory because I was attracted to their slogan "Why don't you make something unique in the world?"
- What do you remember about job hunting and interviews?
Y.T Since my major was chemistry, I wanted to be involved in product development and research. I happened to participate in the recruitment briefing and I was amazed that our company was making products that I have never heard of and I was happy that the personnel staff was really kind in explaining things. Due to the scheduling issue, my first interview was with the president so I was really surprised. He was very casual so I was able to speak in my own words without being too nervous.
- Please tell us about your current work since you joined the company.
Y.T At first, I learned how to use the machine and how to test while helping my boss. Currently, I am in charge of China and we are proposing colors related to film production for car manufacturers in China and handling sample shipments. In addition, we are involved in the production of sample films for design proposals, the development for steel plate decoration, and the addition of color variations, and the development of films for vehicle interior displays.
- How many tests do you perform in a day?
Y.T That depends on the type of film. There are various types of tests such as a test to heat the film to check for discoloration, a moisture resistance test, and a water resistance test.
- How long did it take for you to operate the machines?
Y.T It took me at least 1 year. I have to make a test piece by injecting resin into a mold made with a vacuum forming machine but it took me a long time to do all this work by myself.
- I am surprised to hear you are in charge of so much work in the first year or two.
Y.T Yes, but when I don't know what to do, I ask the senior staff and I am thankful that everyone is very kind and helpful.
- Are there any similarities with the university research and work?
Y.T I think it is the same in any research work. You just have to do many tests. You have to make variations, changing each time, trying new things next time.
- When do you feel rewarded?
Y.T I am seeing good progress with the new products and there are many that are about to be in production. I am excited to think that the products I am involved in are going to make profits. It is still a long way to go but I am happy to see that it is progressing little by little.
- What kind of film are they?
Y.T It is hard coated film used for vehicle interior displays. It protects the display and is resistant to chemicals, scratches and dirt.
- Please tell us your future goals.
Y.T Right now, I am helping my boss develop new products but someday I would like to develop something that will be sold as a products.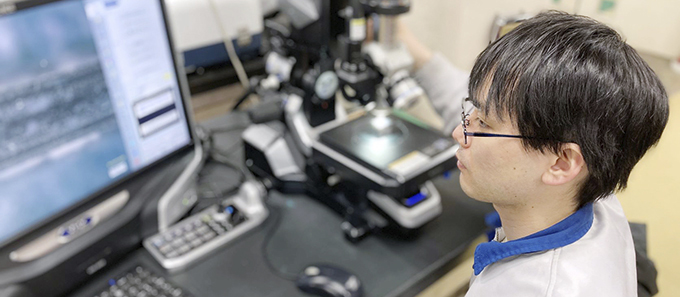 I am going to start training to build physical strength!
M.K Living Solution Department, Innovex Ltd.,
Joined in 2020, From Fukuoka
- What did you study in University?
M.K French was my major in University. I chose this since there are not many opportunities to study French and I just wanted to speak the language. After I started the course, I remember my teacher saying "French is not going to be very useful for job hunting".
- How was your recruitment activity?
M.K I was originally thinking of finding a job in my local area in Fukuoka but I heard that there is a good company for me and was introduced to this company. I got interested after learning that we make products around our daily life (such as yogurt containers, mesh doors, etc.) After visiting the head office for an interview, I felt that it will be nice if I could work for a company like this.
- Did you feel comfortable changing your plan and getting a job in Tokyo?
M.K I felt it will be a good experience for me to get away from my hometown. I didn't want to miss the opportunity of working for such a wonderful company. I was worried but the excitement was greater.
- What did you want to do as a member of the society?
M.K I wanted to be a person who is useful and who is trusted by the people in the society.
- I'm sure you had a lot of troubles once you joined the company in the spring of 2020.
M.K Yes certainly. Because of Covid-19, it was not till 1st of June when I first went to the office. For the previous 2 months, I had trainings and worked on line. I was assigned to The Industrial Solution Department where we deal with mesh etc., so I studied mesh alignment, fibers and plastics. Also, as a sales representative, I experienced creating shipping requests to the factories and creating information package for overseas shipments.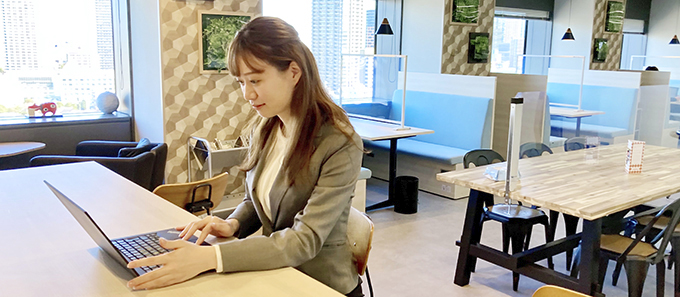 - What kind of work are you doing now?
M.K I was assigned to Living Solution Department in January 2022. I am not yet in charge of clients but accompanying business negotiations and responding to quotations. Living Solutions Department deals with insect repellant mesh so most of the customers are home improvement stores. I have been assisting in business negotiations, accompanying when the stores are remodeling the display area and helping with displaying products. I was surprised to learn that so many of our products are displayed at the home improvement stores.
- Was there a big gap before you joined and the actual work?
M.K I joined the company as sales representative. But because of the influence of Covid-19 I was not able to visit the customers and did not have much opportunities to be outside.
- When the situation settles down and they tell you to "Go out and sell", would you be OK?
M.K I will do my best!
- What is important for you in your work? Tell us your future goals.
M.K The important thing in my work is to respond quickly when there is a query. I aim to become a person where people love my personality and I get along with the customers. In the future, I would like to increase knowledge of the industry and be in charge of customers and grow as a sales person by communicating and making proposals to them.
- By the way, why are you starting to train?
M.K There are times when I have to carry heavy products. In general, in this industry, there are more men, but I want to be useful even as a woman.
I am good at cooking tomato and beef stew.
K.K Technical Department, Innovex Ltd.,
Joined 2020, From Republic of China
- How old were you when you moved to Japan?
K.K In 2017, when I was 25 years old. I finished my undergraduate and postgraduate in China and proceeded my postgraduate study in Japan. I studied for 3 years and after graduation, I got this job.
- When did you start studying Japanese?
K.K I started when I was in my postgraduate. I was interested in Japanese language and initially studied just as a hobby. And then I started to think about studying in Japan.
- What was your research for undergraduate and postgraduate?
K.K For my undergraduate I was major in polymer materials and acquired basic knowledge about polymer from production to molding. For my postgraduate, I was researching system creation and specialized experimental program.
How was your recruitment activity?
K.K I searched companies online. I was graduating in October so there were not so many companies who were searching new employees. I wanted to work something related to my research in the university so I applied to this company after reading the company profile. When I was job hunting, Covid-19 was prevalent so I could not have face-to-face conversation, but I was fortunate to have the opportunity to visit the factory and the head office.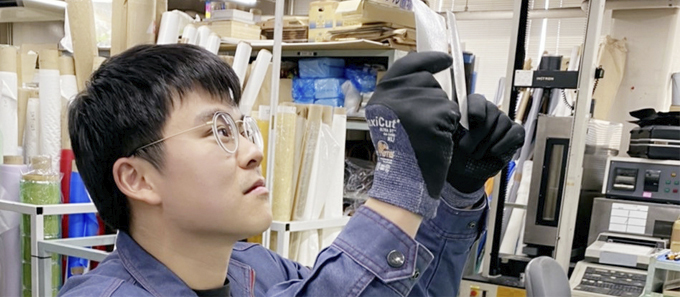 - Tell us about the work you have been involved in since you joined the company.
K.K I have been working on the development of new platform. The first thing I did was a preliminary survey to identify the needs of our products and market. Currently, we are developing new products with better performance in gas barrier compared to our existing packaging materials. We are at the stage of making prototype and requesting a test from external organization.
- What is the benefit of improving gas barrier performance?
K.K In a simple words, foods will maintain quality and will have a longer shelf life. Both Japan and China are aging societies. It will be beneficial for elderly people if they can store food longer with only shopping once. The use of gas barrier technology is not limited to food products, we are developing both food products and non-food products.
- What do you think is difficult in your line of work?
K.K It was difficult to determine the work method from scratch and to implement it. I have made plans on how to create new products by doing surveys, selecting platforms that could produce new products, examine and narrowing it down with the department managers and factory managers.
- So, there were possibilities of making different products.
K.K Yes, certainly. We are currently working on a new research.
- Do you find the work where you are able to propose to be rewarding?
K.K It feels rewarding when we get the good results from the performance evaluation of the samples we created. It is still in the prototype stage, so I hope it will become a real product in the future.
- What is the process that lies ahead of becoming a product.
K.K It will still take some time to get the performance evaluation from an external organization. Furthermore, making a product depends on how to organize the process. Since I am not experienced on that part, I will consult with my seniors and managers to proceed.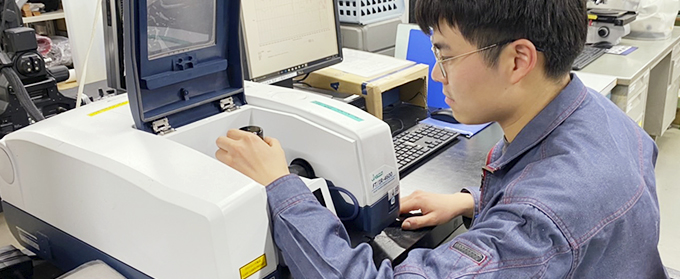 - What do you value in your work?
K.K First of all, safety is important. Secondly, it will be accuracy. When experimenting, the samples made in two days cannot be comparable if the condition of yesterday and today is not the same. When conducting an experiment, it is important to adhere to detailed conditions.
- Your job is providing new value to the world.
K.K Yes, I am working to make the life of the people more convenient.
- What do you think has changed within you since you joined the company?
K.K My Japanese has become much better compared to when I first joined. My Japanese was not so good when I was interviewed and I was thankful that the interviewer tried hard to understand me. I will continue to work in Japan, so I want to improve my Japanese.