Wavelock Holdings are supported by TEAM Wavelock.
We will deliver interviews from the young employees who joined the company during 2020 to 2021 asking them about their encounters with the company, working in a new environment, challenges and their thoughts.
| Vol8 Hello New World. Nice to meet you (Prat2) | May.,2022 |
| --- | --- |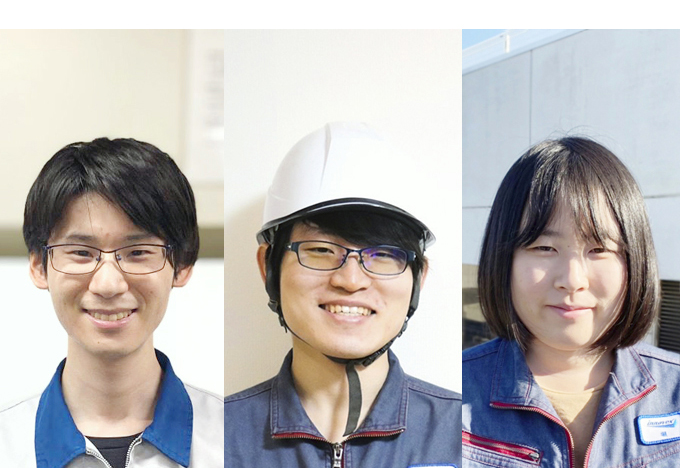 I belonged to the rowing club when I was in junior high school. I still love rowing boat.
A.H. Technology Development Department, Innovex Ltd.,
Joined in 2021, From Saitama
− You were competing rowing boat, right?
A.H I was competing solo rowing, twin rowing and 4 people rowing when I was in junior high school. Arakawa river runs through my local area in Toda City in Saitama Prefecture, and there has been a culture of rowing boat for a long time. So, the whole city is supportive of rowing competition.
− What was your passion during university?
A.H I was devoted in experiments. My major was inorganic chemistry and research on substances called polyoxometalates which is oxidized metal. This product is a difficult substance to synthesize to start with so the first goal was to create a shape. And then, I made small goals to study how to actually handle it and study what kind of properties it has.
− We understand it was in the middle of the Covid-19, but how did you do your recruitment activities?
A.H The job fairs were either cancelled or became virtual after the end of March in 2020 and some companies completely stopped hiring people. Originally, I was hoping to work for metal related company but after expanding my search to chemical related manufacturing companies with research and development, I came across this company. I was major in polymer of metal in university, and since plastic is also a polymer, I thought it may be close. I was most attracted to manufacturing.
− What was your impression about this company during recruitment process?
A.H After actually meeting some people, I thought there are many kind people in this company. The interview process was smooth and I felt they are looking after each candidate.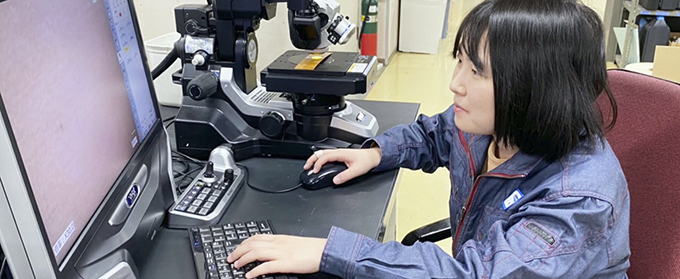 − What work are you involved in since you joined the company?
A.H I am involved in technical development for sheets used for food packaging materials and food containers. Starting with the work of cutting sheet for physical property testing, carrying out the testing, examining the use of sheets in new materials, and testing for revision of product standards.
− What is physical property testing?
A.H For example, we cut the sheets in long narrow strips and see how long it will stretch when we pull each end, and where it will break. We cut the sheet into squares, put it in the oven, and see how much it stretches vertically and how much it stretches horizontally.
− Was there a big gap before you joined and the actual work?
A.H I thought that the work will be hard, but it was actually even harder than I imagined. I took notes of what I learned, memorized it once again by doing it, and if something was not clear, then I asked the senior staff. I created this routine and do the test again. It was hard since this cycle was really fast.
− What do you think is the hard part of your work?
A.H Since I am doing "Technical Development", I have to create something new all the time. Also, there is no correct answer at the beginning when we are testing new materials. We are comparing the results of several types of materials and considering whether we can combine the good parts of each materials.
− Do you think the current work is a good fit for you?
A.H I think so. I like detailed work and I also like to examine the content of the test result and think of a better way to do it.
− What do you think has changed within you since you joined the company?
A.H Before I started working, I was not good at acting responsibly and being proactive. Everyone around me at work are kind so I tried to ask anything I did not know. There are still things that I am not good at, but I think I am more proactive than before.
− You are your future goal?
A.H I have to rely on my seniors a lot now, so I want to become independent and think alone. Also, there will be new employees in my department next year so I want to behave like a senior to them.
I like making preserved food. I challenged making Umeboshi.
Y.Y Production1, Industrial Materials Production Department, Koga Factory, Innovex Ltd.,
Joined in 2020, From Kanagawa
− Tell us how you were when you were a child.
Y.Y I was brought up in Kyu-Tsukuigun, Sagamihara-shi, Kanagawa Prefecture where I was surrounded by nature. Since I was a child, I've always liked learning about plants looking it up on encyclopedia. I also chose science for my major in university.
− What was your major for undergraduate and graduate in university?
Y.Y I was studying synthetic chemistry with a focus on organic chemistry. I was doing research on a material called "polyimide" used for winding automobile motors. Ordinary household plastics turn white and break when bent, but polyimide is a tough plastic that can be bent and pulled and does not change color.
− What was the most impressive thing during job hunting?
Y.Y I found this company during the job fair hosted by my university and I was impressed by the varieties of products. I also thought there must be many production methods. I found it interesting and worth studying. The most impressive thing was during the final interview when I asked them "What do you think is the future challenge for the company?" It was one of the executive directors at that time who replied "a company is a living thing. As people and machine age over the years, I feel that the challenge is how to improve metabolism." This word made me think how I should prepare and the way I should work after I join the company.
− You asked very bold question.
Y.Y When I think back now, I think I did.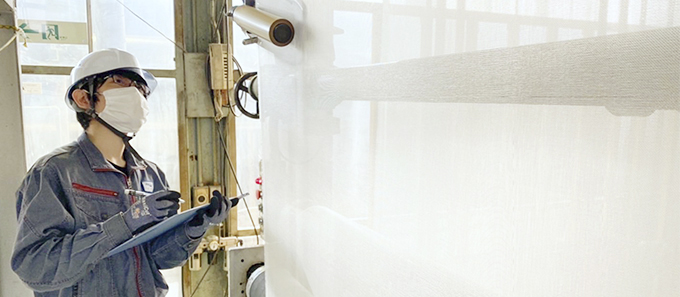 − What kind of work did you start and what are you working on currently?
Y.Y I was assigned to Production 1, Industrial Materials Production Department, in Koga Factory. There, I watched the manufacturing process at the lamination factory and participated in the product inspection work. We cut the rolls wound in 1000m or 500m to a fixed length of 50m, but there are many very delicate products. The inspection work is to make sure that there are no alien substances and defects and this was the first thing I learned. Currently, I am involved in the base cloth feeding work at the Melt Coater Factory Unit 3. Here, we prepare the base cloth used for manufacturing waterproof cloth, set the feeder, move semi-finished products, etc., We also inspect and process products.
− What kind of processing does Unit 3 perform?
Y.Y It is a machine that coats cloth with vinyl chloride resin. It is a mechanism that the resin is evenly coated by sending out the base cloth that is the source of the tarpaulin and passing it through a roll into which the PVC resin is poured. The machine is operated by 5 people, and each person is in charge of base cloth, winding, bank, self-control, and an operator (supervisor). We operate this in three shifts.
− Creating a product involves responsibility, isn't it?
Y.Y It sound very easy to coat cloth with vinyl chloride resin but it requires precise technique so I am learning every day. Now that I have learned how to operate machines, I think it's important to improve the technique to create good products.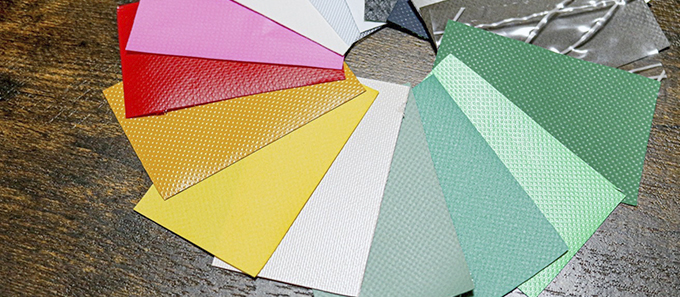 − Do you think you are suited to improve technique?
Y.Y I do not like to lose. I often dig deeper when I feel frustrated.
− When do you feel rewarded?
Y.Y It's hard to memorize everything since the manufacturing method differs depending on the type of products. But once you go beyond that, there is satisfaction that I am making the product that I was only seeing it before.
− How would you like to work in the future?
Y.Y I would like to work with an attitude of not being afraid of challenges. If I was given a chance, I would like to challenge difficult tasks and use them to build my experience.
I would like to start playing volleyball and start learning English.
S.W Technology Dep, Wavelock Advanced Technology Ltd.,
Joined in 2021, From Chiba Prefecture
− What was your passion when you were in undergraduate and postgraduate?
S.W I was passionate about my research activities. My major was physical chemistry, and I was engaged in a research on advanced materials, photochemistry using surface science, and wavelength conversion of light. When you join the laboratory in undergraduate school, the research period is only one year. I went to postgraduate school because I wanted to study a little deeper.
− You thought your research activities were interesting from an early stage.
S.W Yes, I was very blessed with the laboratory with great teachers, environment and surrounding atmosphere.
− What did you want to do as a member of the society?
S.W I wanted to be involved in development and improvement of the product. I also wanted to work with people abroad.
− You were job hunting during the middle of Covid-19. What positive thing did you feel from our company?
S.W Compared to other companies, I got the impression that our company was more sympathetic to the students during the interview and factory visits. Especially during the interview, I remember feeling relaxed and was able to express myself. During the factory visit, my current manager showed us around and demonstrated the real picture of the company. We were able to see the work of senior staff, so though it was not exactly experiencing, I was able to imagine my work.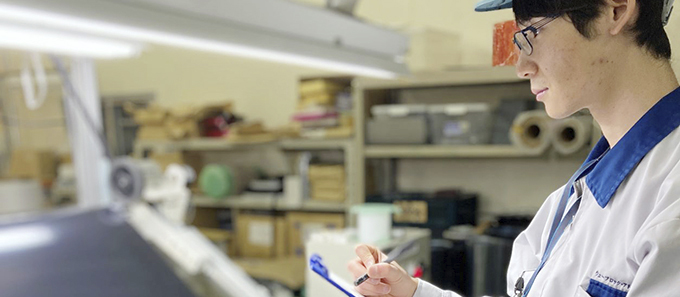 − Tell us about your current job responsibilities.
S.W I am working on developing special film used for interior and exterior film, radar emblem, head-up display for cars. I am in charge of European market and my customers are car manufacturers in Germany and France. My job is to match the tone of the colors that the customers requested with the sample, confirming the sample production on the actual machine, and shipping the products. On top of this, I am also involved in suggesting new designs.
− You are working at the same department with Y.T whom we introduced in the previous volume.
S.W Yes, we are in different teams and have different customers but our work is very similar.
− How do you actually mix color in the color toning process?
S.W A liquid ink pigment is mixed with the adhesive to create a color. We repeat the fine adjustment until we find a color that is close to the color combination sample we created in the past.
− What do you actually do for suggesting design?
S.W Our company starts with a project proposing new products, and we create a sample with an emphasis on design. The designer in our department comes up with the idea of the design and we discuss if it can be realized. We now have completed this new sample and have begun to distribute to China and Europe.
− You are doing practical work in your first year.
S.W Yes, it is very rewarding.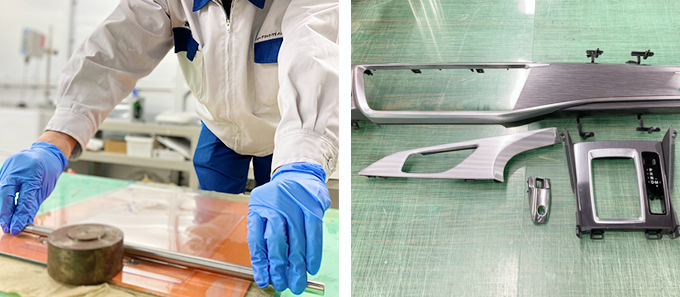 − What is the difficult part of the job?
S.W I feel it is difficult to respond to what the customer really needs when I receive a sample request. They tell us, "we want this sample", however I sometimes think a different sample will be better for them when we consider the process that comes after. It is difficult to think about the customers considering the process that comes after.
− What is your goal for the future?
S.W I am involved in various projects. I would like win the projects by combining the good parts of each of them and create new and better products.
− The auto industry is constantly changing. What do you think is the future of our product?
S.W Currently, SDGs are in the spotlight. As for the auto industry, there are some parts that cannot be handled by conventional materials for self-driving and EV (Electric Vehicle). Since the radio wave transparency and functionality is important for film, I think that our products have the high possibility to be selected. I think there is a great future to be implemented because it is a film.